REMEMBER ME RESCUE
REMEMBER ME RESCUE
M. DeSanti
My beliefs are quite simple--No animal should be abused, neglected, or forgotten. If you can't keep a pet then "find" him a home! Don't dump him on the streets, don't leave him behind at the pound where he will wait his time out until he is killed. These animals are family--Dogs are family, not things to throw out. Not garbage! I believe in saving lives--getting a dog healthy physically and mentally and then the hardest part of all, finding them the best home possible. We can help you find a home for your pet if you cannot keep him but you must foster and show the dog at our program and be responsible for him if the adoption does not work out.
Our adoptions are every Sunday (11-4) at Centinela Feed in Westchester--7600 S. Sepulveda Blvd. Our adopters don't have to have a big house or a huge yard; they just have to be mature enough to know that having a dog is like having a child---forever. It requires a lot of time and patience and most of all--love. Dogs aren't adopted for the kids to take care of, they are adopted for the whole family to adore and spoil. Dogs don't sleep outside, they are part of the family---they sleep inside with the family. I do an interview, have an application, do a housecheck (safe-place) and have an adoption fee.
HELP!!! We need FOSTERS and VOLUNTEERS. DONATIONS ARE ALWAYS APPRECIATED!
310-623-0243
gizmoandhenry@juno.com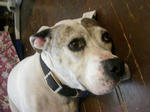 Remember Me Rescue is a 501c3.
We are not breed specific---we love all dogs. We are not age specific--all dogs at any age are worth saving. It is my opinion, that most behavioral problems are workable. I never believe that a dog should be put down because of a behavioral problem. This is not to say that I know the cures for these problems---but you just can't give up on your responsibilities. You just got to make do.
Help!!! We need Fosters. My boyfriend is my main foster.
Help!!! We need Volunteers. Do you want to help out on Sundays?
Donations are always appreciated.